Hey all. It's Gracie from VODIUM. I'm here to fill you in on this very easy work-from-home tool.
VODIUM is an easy-to-use teleprompter app that is a must-have tool for any professional working from home. The app is specifically designed with the new demands of work-life in mind. VODIUM helps professionals stay in control and organized with their virtual presentations. But most importantly, the work-from-home tool allows professionals to maintain eye contact with their audience while also reading their prepared remarks.
Download the app
Download VODIUM for your computer's operating system. The teleprompter app is compatible with macOS and Windows.
It's like any other app on the internet
Open up VODIUM like any other app you download from the internet. A pop-up may appear asking you if you trust the download, click "yes". Then find the teleprompter app in your Applications folder and open it up.
5 Day Free Trial or Subscription
If you download the 5 Day Free Trial – open up the app and you're ready to start. If you purchase a subscription, make sure you have your Activation Key handy. It will be in your email.
Copy & Paste Remarks
Copy and paste your remarks. You can paste either a speech or notes. You can even type your remarks directly in the work-from-home tool.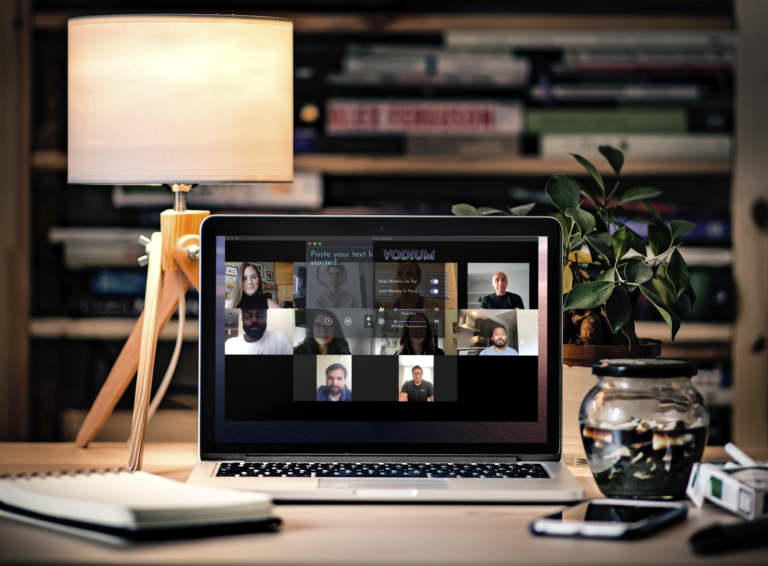 Settings Panels
Once you see your text, go to the settings panel and play around with the font size and window transparency. The font size matters, and will help with how you read your text along with the desired speed. The transparency matters and helps you see what's behind the teleprompter app. Like a presentation or your audience.
A very key feature in the settings panel is the Keep Window On Top. By pressing this, the teleprompter app will sit on top of all open windows. Yes, video conferences included. You can also Lock the teleprompter app in place right below your computer's camera. So it doesn't move during your speech or presentation.
Control the work-from-home tool
Now with your desired font size and transparency level, it's time to dive into your desired speed. VODIUM allows you to pick a speed that works for you. Make sure you practice your remarks at your chosen speed to make sure it works for you. You can also choose to control the text by using the Page Up and Page Down buttons. Or you can manually control the text by using the scroll bar. Then once you're done with reading your speech or notes, you can use the Return to the Top and go all the way to the top.
Enjoy, Gracie.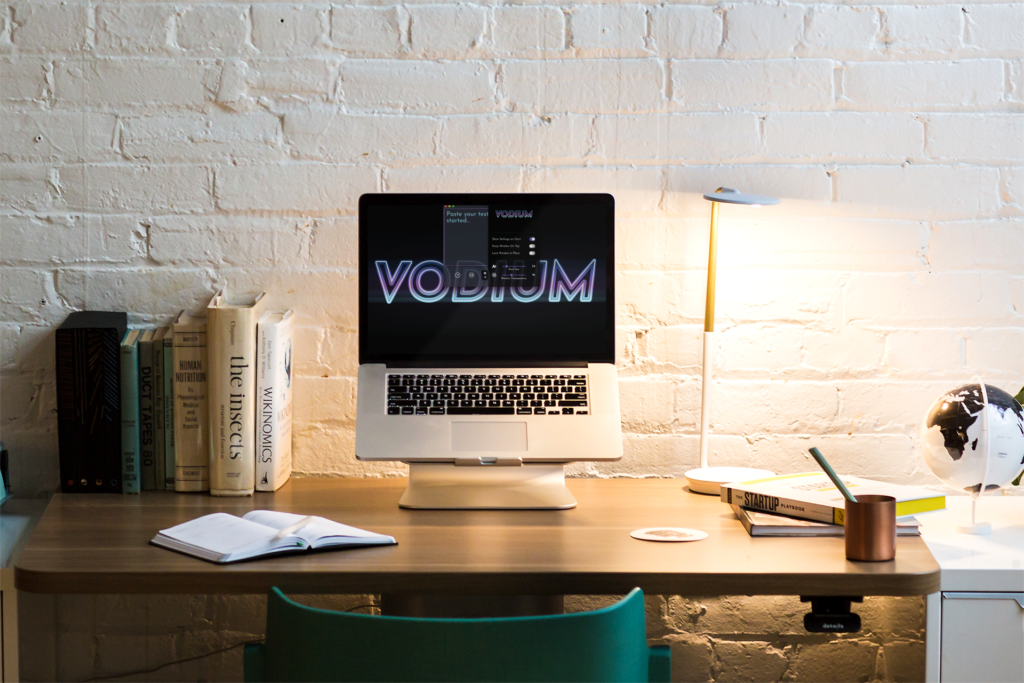 Teleprompter App Tips
To find the desired font and speed that works for you, you can also add spaces to your text and adjust the teleprompter app's window size. Adjust the text and window size which can help make the text easier to read with your chosen speed.
The work-from-home tool allows you to read your notes and look at your audience, but make sure you're also at eye level with the camera. Add some books under the computer, or use a computer stand.
The teleprompter app is uniquely designed to sit on top of any video conference platform. Like Cisco Webex, Microsoft Teams, and Zoom. But the platforms don't allow integration with outside apps when you are in Presenter's Mode. To use VODIUM while also sharing your screen, either share your presentation as a PDF or on an internet browser window. But if you want a presentation with transitions and videos, then ask a teammate to share their screen so you can focus on VODIUM.
Once you download VODIUM, it lives on your desktop. Meaning that the teleprompter app does not need the internet. So when your video conference is shotty, VODIUM will still be there standing strong.