The virtual world is shortening our attention spans. With easy access to content-on-demand, we are accustomed to being entertained, and most of us have little time for anything else. In a presentation, attention starts to wane in the first one minute if the introduction isn't interesting enough to catch the attention of the audience. So, how to engage an audience from start to finish and make the most of your presentation?



How to Keep your Audience Engaged by Setting Expectations
Presenting to an audience cannot be successful without getting a buy-in from them. That means priming them so that they are ready to receive the information that your presentation will cover. If you have ever taken a learning course, the instructor usually begins with a syllabus. This is to help learners orient themselves and organize information in a logical manner. The same principles apply to presentations. You are really teaching a miniature course with each presentation, so you need to take the same steps to orient participants.
Create an agenda and distribute it to all attendees a few days before the event. A well-planned agenda will provide enough information to provoke some forethought by audience members who are relatively unfamiliar with the content of the presentation. That means a bullet list without any context may not be enough to be effective. Consider including some questions that you would like your audience to mentally prepare for discussion during the presentation.
The agenda also communicates to your audience that you are prepared and respectful of their time. It instills trust in the participants that the presentation will be efficient and worth their investment.

The Right Tools Can Make Engaging the Audience Easier
A virtual presentation opens the door to the use of many new tools that can improve engagement, boost your presentation skills, and make things run smoothly. For example, a polling app that allows attendees to discreetly answer questions during the presentation can provide the presenter with real-time feedback from the entire group. Or a virtual teleprompter app that sits on top of your videoconferencing software can display notes or scripts that allow the presenter to maintain eye contact instead of flipping through note cards.


VODIUM is the perfect tool for virtual presentations. It is a virtual teleprompter app that allows you to type your notes in a free-form box. The app is only visible to the presenter and can even work while sharing screens. Whether you prefer an agenda, notes, or a full script, VODIUM can help you deliver seamless virtual presentations.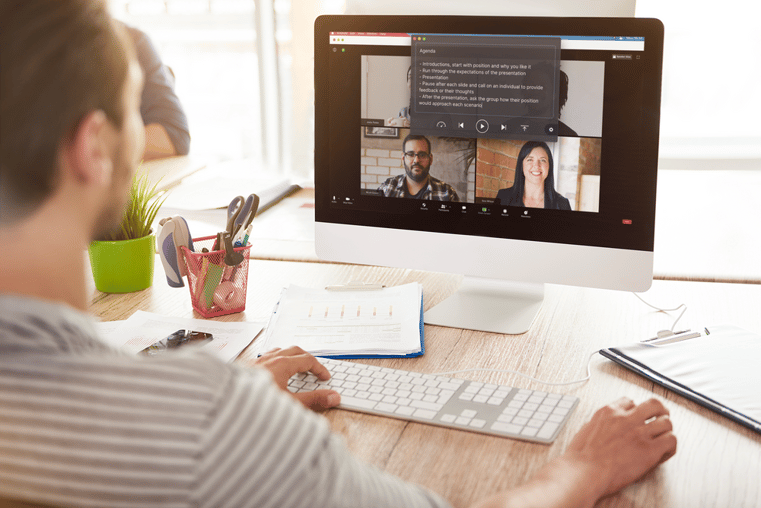 VODIUM is a transparent app that you can use to run through your video meeting agenda.

A standing desk is also a great tool for virtual presentations. When you are standing, you are more likely to move naturally and convey body language that helps you connect with your virtual audience. While you may be able to present from a seated position, most people feel constrained while seated and tend not to move.
And, if you will be presenting, you will need a high-quality microphone and video camera. Sometimes the hardware that is built into a laptop works ok, and sometimes it doesn't. It depends on the specs of your equipment. The good news is that there are plenty of options for upgrading your microphone and webcam components to achieve professional-quality audio and video.



Keep Your Slides Simple to Engage the Audience
The slides are the visual aids that supplement your presentation. And should not distract from your words. Try to keep information relevant and minimal. Use bolding, underlining, and large fonts to emphasize important words. Make sure all information on slides can be read and digested at a glance. Participants should be listening, not reading.
Creating and delivering effective virtual presentations is a new skill set that is becoming increasingly important to employers. More than 70% of the business world recognizes the growing importance of delivering great presentations.
Active Audience Engagement Strategies
Starting with the right tools is only half of the battle. The rest depends on how you engage the audience during your presentation. Some of the engagement is passive, like the tone of your voice, which can naturally command attention or detract it.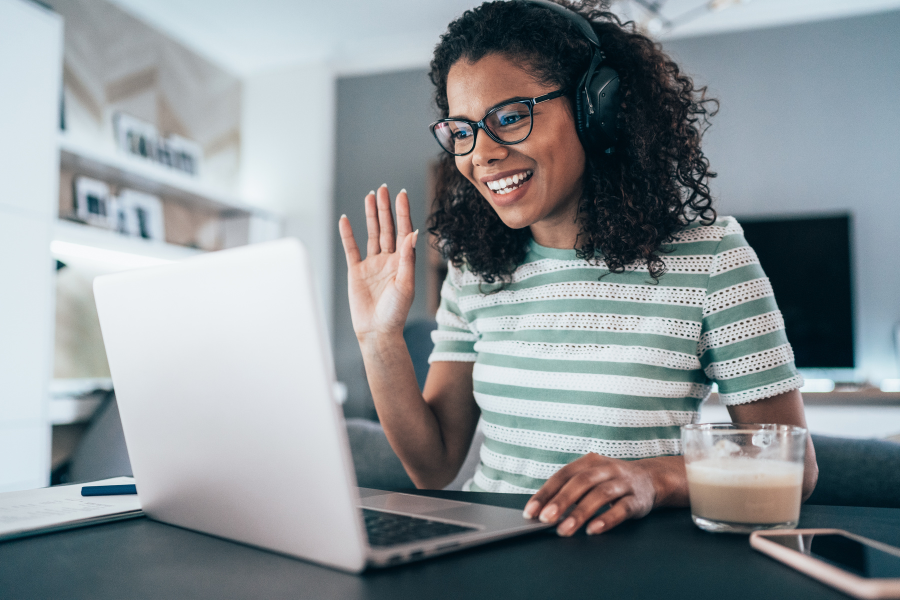 Engaging your audience is key to a successful virtual presentation.

But there are also many techniques to actively engage your audience and grab their attention as they start to lose interest. The easiest way to engage your audience is to prepare questions in advance and call on audience members to provide answers. You can keep everyone actively involved in the conversation by asking additional participants to share their reactions to different answers.
Other strategies for engaging the audience include:
Follow-along Worksheets
Small-Group Break-out Activities
Use a variety of activities (lecture, Q&A, Quizzes)



Don't Forget Your "Ask"
What is the reason that you are preparing this presentation? Companies don't invest time into meetings and presentations without the hope of some revenue-boosting goal in mind. Yet, we often get caught up in the details of our presentation and completely forget to tie in to the main goal driving the presentation.
It is essential to the design of your presentation and the transfer of learning for your participants that you communicate the purpose of the presentation. Having kept the audience engaged during the presentation, you will also need to give them time at the end of the presentation. This time will be used for an ample dialogue to ask your audience how they will implement the tips that have been covered in your presentation.
And, after the meeting has ended, don't forget to follow up with attendees to make sure they are transferring their new knowledge into the real world. This might include providing a list of action items for each person to accomplish after the meeting and then following up to make sure they have been completed.
What is the Best Way to Keep your Audience Engaged - The Summary
Audience engagement is more important than just getting people to show up. You need to have their attention for the duration of the presentation. While basic presentation skills like being well-prepared and proficient at public speaking go a long way, there are some specific things you can do to boost engagement. Try using tools to supplement your presentation, building in plenty of engagement activities, and paying specific attention to the structure of your presentation.



Apps like VODIUM, a virtual teleprompter app, can help you keep your audience engaged by providing easy access to your agenda or notes. With VODIUM you can read your text without appearing to break eye contact with your virtual audience. Learn more today!