In this Q&A, Camille Padilla, co-founder of VODIUM shares her career journey from working on major campaigns in Washington, D.C to building a product inspired by her experience there. Camille's founder story is as unique as the community she represents in the tech space as a non-technical, female and Latino founder. Learn how she's navigated the obstacles of entrepreneurship, lessons she wants to share with similar founders, and how she hopes to make an impact on the technology industry.
---
Talk about your career journey leading up to VODIUM, how did you get started?
Learning behind a desk was never my strong suit. So after I graduated from college, I joined the campaign for Senator Dick Durbin (D-IL). I joined as an intern, and left as a press secretary. And that's because over a month's time, I helped coordinate the Senator's state-wide campaign commercials. From Chicago, all the way to Southern Illinois.
Once the Senator won re-election, all my connections led me to Washington, D.C. And I got a call from someone who told me I had five days to move to D.C. to become the press secretary for the DCCC. There I got to learn about every facet of a campaign, and dive more into the commercial-advertising side. So after the 2016 election, and a major defeat, I joined a boutique media firm. That move was very strategic. It was a firm with only two guys running the place. Which screamed a lack of operation and structure. So over the course of four years, I went from being Associate to Vice President. I also was one of the few Latina media consultants. But after six years of being in politics, I was growing tired of the lack of respect and the undeniable glass-ceiling.
What led to your pivot from politics to technology?
It was 2020, and I was based in Los Angeles, CA. I was Vice President at the boutique media firm and I was gearing up for a brutal Presidential cycle. I also was half way across the country from my family, struggling with adjustment, and extremely unhappy in a relationship.
Yet all of those things culminated into creating VODIUM. I was conducting a commercial over Zoom for the Maine Senate race. I was producing a direct-to-camera approach and was searching all over for a seamless teleprompter application that could sit on top of video conferencing platforms. Nothing existed. And to help distract me from all the other uncertainties in my life, I was certain that a teleprompter for the virtual world would help.

Where did the initial vision for VODIUM come from?
Entering into the entrepreneur industry, I've been told that so many people will create startups just because they've always wanted to be a founder. And their mission is unclear because they aren't necessarily solving a specific pain point.
I'm just beyond thankful that the decision for me to start VODIUM with Mary was a no-brainer. It was extremely apparent that a problem existed and that I had the expertise to envision a solution. I've always been a self-starter, and the initial vision behind VODIUM was to create something that helped people. And that vision has rung true up until today. But most importantly, it's helping me grow as a professional.
Being a Founder can be as rewarding as challenging, what have been some notable highs and lows of founding VODIUM?
The hardest part of founding VODIUM is not knowing what I'm doing. And that comes when embarking on any new facet of the company. And I have no shame in admitting that, because of course I have talents and expertise but that can only get you so far when it comes to creating something new. And VODIUM was the first-ever teleprompter built for the virtual world.
I've worked really hard alongside Mary to find answers on our own by doing research and talking to experts. All to then make our best educated guess on what's best for our company. And sometimes, it turns not to work out. But it's during those painful times where we actually learn. And are able to get back up with a new layer of skin and have more perspective. But most importantly, we're becoming business owners in the only way possible - by trying.
The highest part of VODIUM, is that no matter what happens, I not only built a company with my best friend, but we built a working product that actually helps people! And that people use over and over again because it provides them something that they feel is designed and reliable.


Tech industry leader are predominantly male and/or white. As a female Latina founder, how are you hoping to make an impact on the industry?
I want to make an impact by really questioning fundraising and investment. Of course it's tremendously important when it comes to building the foundations of a company, but it's expected of founders to constantly fundraise. And it puts this pressure on founders to be the next "unicorn" in the industry.
But Mary and I were very intentional not to fundraise more than we needed. Not only to help us retain majority ownership of our company, but to be hyper focused on the product and the quality of our company. And the more you raise, the more you lose your company. And that to me, just doesn't seem like smart business.
You were one of the 50 founders chosen to receive $100K diluted funding from Google for Startups' 2022 Latino founders fund, what does that mean to you?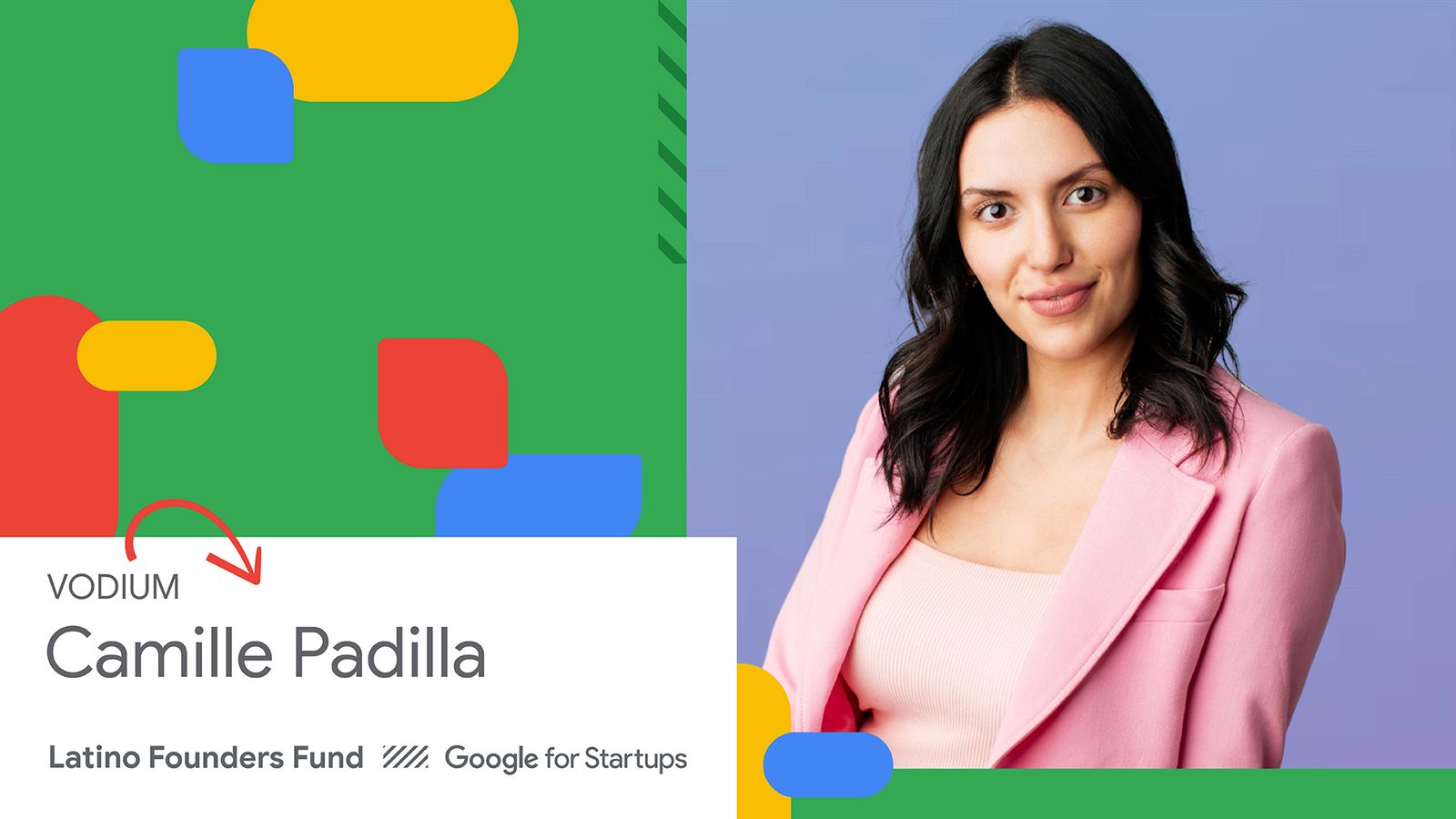 When I received the call, I immediately cried. The only reason I am one of the first 50 founders chosen to be Google-backed is because of my parents. And their parents. And so on. I am a proud second-generation Latina who comes from a long line of entrepreneurs. Of the most selfless individuals who work jobs that are hardly recognized and affirmed. Who work the hours most people don't want to work. Who take the jobs that aren't considered as successful because of our brutal economic standards. And who all have been made out to feel ashamed, less than, and not welcome in this country. But at the end of the day, they always did what they needed to make sure that their children's lives were better than theirs. I am their hard work. I am their legacy, and I am damn proud to be a part of their story.
The Google Funds will help us further promote VODIUM and assert ourselves as the only research-backed virtual teleprompter that professionals choose to help them be more confident and in control on video. And this is a combination of accelerating our Google Ads and advancing the functionality of our software.
Based on the lessons you've learned thus far, what advice can you offer other female and Latina founders?
When you open up your own business, it's an extension of yourself. You wake, breathe, and sleep thinking about your company. And with someone who lives with anxiety and depression, it can be very burdensome at times. Because you take every loss as a personal reflection, and it's hard to celebrate the wins. I wish fellow entrepreneurs were more open about their struggles. Because it just makes you feel like you're the only person who feels that way. But through many conversations, I've realized that a majority of all fellow founders feel this deeply.
My advice to fellow Latina and female entrepreneurs is to do it! Believe in yourself that you can build something. And you have all the time in the world to work for other people, so why not take a chance on yourself. I'm 30 years old and I am still so young when it comes to my career. And I'm confident that starting my own company will just launch me into an even bigger future!
And this is why I advise fellow founders to view the entrepreneurial journey as an investment toward your future. Not many people can say that they were a founder of a company. And you will learn foundational tools that will allow you to have an in-depth understanding of how business is run. And you should always hold that to your advantage, and never underestimate your potential.