In remote times, professionals deserve a cutting-edge communication tool. So they can perform at the peak levels they are used to. No more having to choose between the office or home.
1.This is an easy-to-use teleprompter on any computer
VODIUM is a video conferencing tool created to make your remote work life easier. This laptop teleprompter is simple to set up. All you need to do is paste or type in your remarks. Adjust your settings to fit your comfortability. And then press start, or manually control the tool. VODIUM is meant to be easy enough to be a one-person operation.
Watch how VODIUM works below.
Watch how VODIUM works.


2.This teleprompter app is for Windows and macOS
You can use this teleprompter software for Windows or macOS computers. It is fully compatible with both these operating systems. Download it just like you would any other app from the internet, install it, and you're ready to present like a pro!
3.This computer teleprompter works with any video conferencing platform
That's right. If you use Zoom, Cisco Webex, or any other video conferencing platform, this desktop teleprompter is for you. It sits over any other applications, thumbnails, or windows opened on your computer. VODIUM is also an app not dependent on WiFi like many online teleprompters. Never again will you have to worry about a loss of connectivity leaving you unsure of where you left off in your virtual presentation.


4. Necessary control
This teleprompter for PC was born from necessity. It's almost a year into remote working. And that workforce will now be forever affected. Yet we didn't have the proper video conferencing tools to feel prepared. Until now. VODIUM is here to take control of your video conferences. It helps you seamlessly deliver your information. Just as you would in person.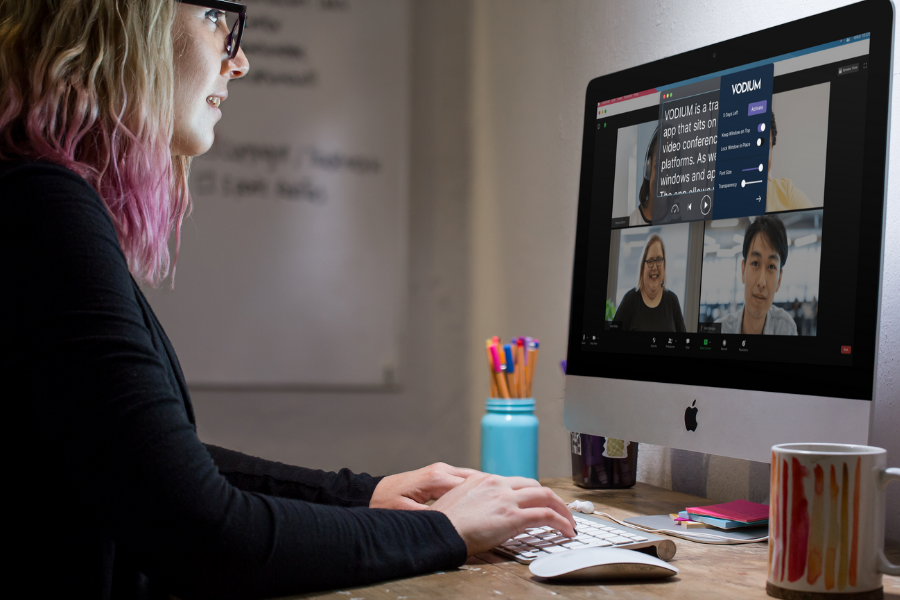 VODIUM is a desktop teleprompter that's designed with you in mind.


5. Improves audience engagement
One of the things that are missing from virtual presentations in comparison to in-person speeches is eye contact. Eye contact with your audience is vital to keeping them focused and engaged. When an in-person audience is replaced by a small camera and a computer screen, it's much harder to maintain eye contact with your audience. But this desktop teleprompter sits just beneath your camera. It allows you to simulate sustained eye contact with your virtual audience. While also simultaneously delivering your remarks.
6.This teleprompter for desktop and laptop is affordable
And on top of all the other perks, this must-have video conferencing tool is affordable. Each subscription is on an annual basis. The teleprompter app for PC can either be paid monthly, or up front. For one user, it's $15 a month. Or $150 a year paid up all at once.
VODIUM is offering a free 14-day trial so you can see how a desktop teleprompter can revolutionize your remote work life.


7. Multiple use cases
This desktop teleprompter is built to enable professionals of all backgrounds to perform at their peak levels.
VODIUM displays your remarks just below your desktop or laptop camera. This allows you to deliver your virtual presentations or notes while simulating a completely memorized, from-the-heart speech. No more worrying about memorizing your entire virtual presentation. Now you can deliver just as you would in-person—professionally and with ease.