A virtual teleprompter is a new app that was built specifically for the virtual landscape.What does the Vodium teleprompter look like? The app, VODIUM, uniquely sits on top of all video conferencing platforms like Zoom, open windows, and applications. The product helps professionals simulate in-person conversation by being in control, and communicate effectively.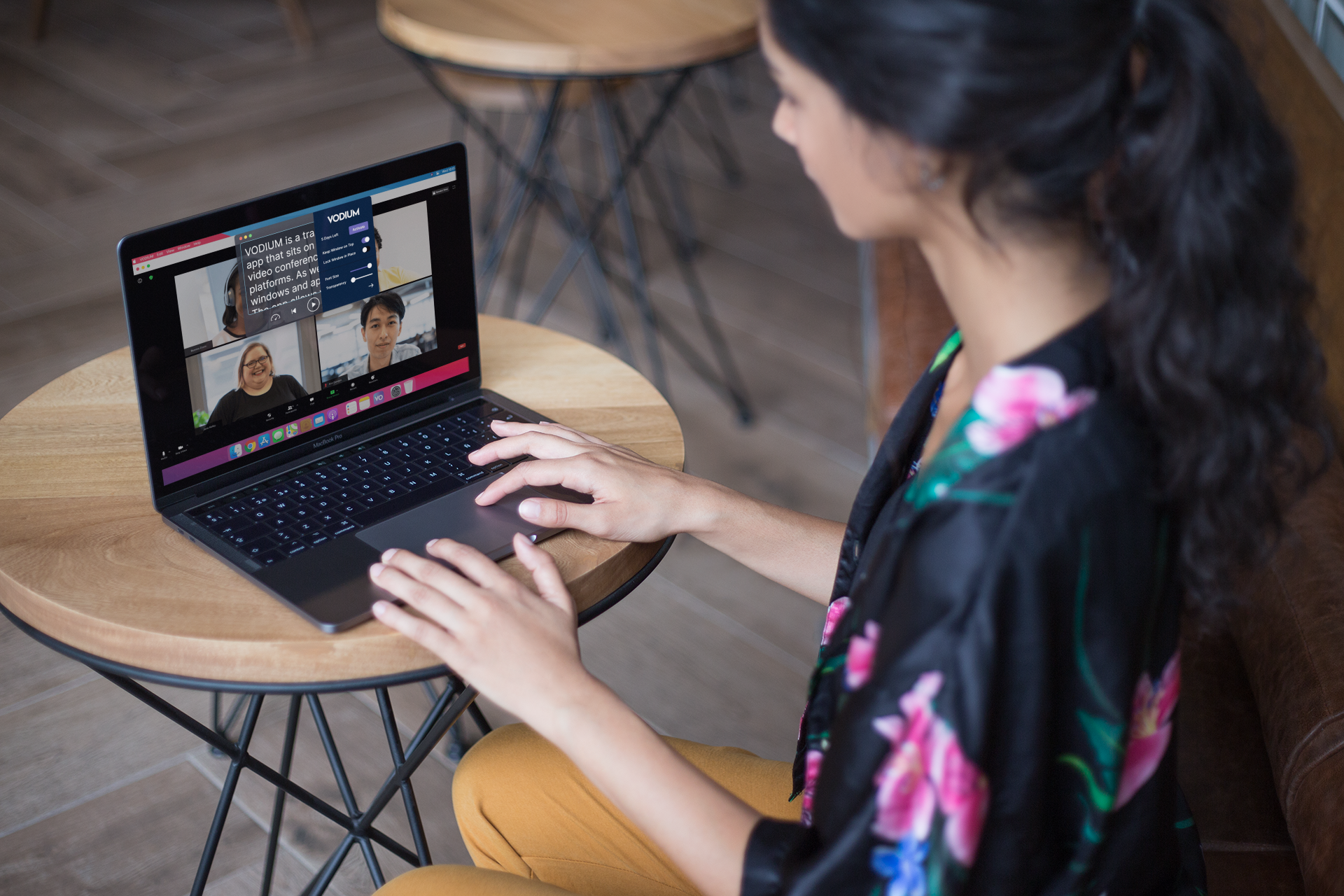 VODIUM is a virtual teleprompter app that sits on top of video conferencing platforms.
Why teleprompters should be used for presentations
Communicating with colleagues on a panel or video conference is no different than being on video. What does that mean? That means that the only way to speak directly to your team or audience is by speaking close or directly to your computer's camera.
Yet that doesn't come naturally to the everyday professional. Why? Because we are hardwired to look at someone. So we are constantly tempted to look at other people's video thumbnails on Zoom. But if we do, the people on the other side of the video just see us looking down at some random corner.
So VODIUM allows you to communicate virtually with ease. How do teleprompters like Vodium work? By having a user-friendly interface that's adjustable by you. The product positions itself right below your computer's camera. You're able to adjust your font size. And it allows the user to adjust transparency levels. So they can see behind the app. You can also control the virtual teleprompter automatically or manually.


Can't I use my computer as a teleprompter?
It seems tempting to try and turn your whole computer into a teleprompter for virtual meetings or presentations. But you'll miss out on seeing the people you're talking to if you use an improvised computer teleprompter.
. You see, a lot of people still don't know a product like VODIUM exists. So they've been using a teleprompter that doesn't sit on top of video conferences. Or dishing out hundreds of dollars for actual teleprompter equipment.
But with VODIUM, we've covered how eye contact is paramount for virtual communication. With our product, you can use your computer as a virtual podium. That means you don't have to sacrifice your Zoom video conference just to read something. Instead, the virtual teleprompter sits on top of your video conference so you can have everything all on one screen.


Using a teleprompter like Vodium
With VODIUM, it's easy. The app sits right on top of your virtual meetings or presentations. This means whether you're on Zoom, or Google Meet, the app positions itself right beneath your computer's camera. Then you automatically or manually scroll your notes or script upwards. Then you wait until each new sentence or note gets close enough to the camera. It gives off the perception that you're looking directly at the camera.
VODIUM is a virtual teleprompter that allows you to read your notes while on video conferences.


Can't I just use a Zoom teleprompter?
Zoom doesn't have a built-in speech teleprompter. But that doesn't mean you're out of luck when it comes to virtual meetings or presentations. VODIUM requires no integration with any specific video conferencing platform. That means whether you're on WebEx or Zoom, you don't have to leave the video conference. The product sits on top of your video conferences. And it allows you to engage with your audience without loosing your script or notes.